The Sentinel North Scientific Meeting mobilizes a diverse research community to bridge disciplines in an aim to improve our understanding of the northern environment and its impact on human health.
Join this virtual event to network with your peers from other disciplines, share your work, and contribute to the emergence of innovative ways of doing interdisciplinary research at Université Laval.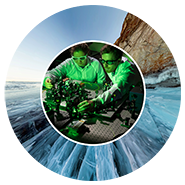 Registration
The registration deadline is November 1st, 2021.


Participation to the virtual event is free.
Call for abstracts
The submission deadline for oral, blitz or poster presentations is September 1st, 2021.


For abstracts selected, people will receive confirmation no later than September 14. For oral and blitz presentations, they will need to submit their pre-recorded presentation by October 4. Instructions for the video will be sent with the confirmation email.


Abstracts will be evaluated based on the relevance of the research to the Sentinel North community, the quality of the abstract submitted, and the originality of the work or results presented. Authors are encouraged to mention in their abstract if the work was part of an interdisciplinary collaboration.

Past editions
Scientific Meeting 2019
Aug. 26-28, Lévis Convention Centre
Scientific Meeting 2018
Aug. 27-30, Voltigeurs de Québec Armoury and the Hôtel Château-Laurier
Scientific Meeting 2017
Aug. 29-30, Hôtel Château Laurier